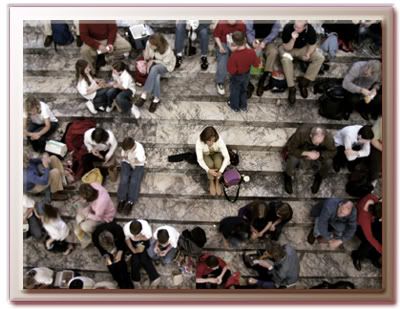 copyright © 2007 Betsy L. Angert. BeThink.org
The world is crowded. Six billion, six hundred twenty seven million, three hundred and sixty six thousand, three hundred and fifty people populate this planet, or did a short time ago. In this moment, there are more humans than there were seconds ago. The number of inhabitants increases exponentially each day. Everywhere we look, there is another person being born. Yet, at least in America, people feel more isolated than they did in the past.
Americans are more connected. Cyberspace calls us and draws us in. Electronic communiqués flood our online mailboxes. Cell telephones ring. It seems everyone has one and uses it to speak with someone, even when they are with another individual. Conversation is ubiquitous. However, when in a crowd, Americans feel more socially isolated.