© copyright 2007 Betsy L. Angert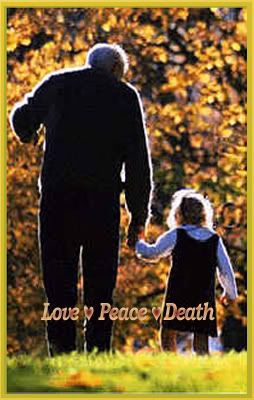 In the last sixteen years, I have only used the word in my writing. It just does not seem apt for me anymore. In 1991, my Grandpa passed, or as some say, he died, although he never did. I am reminded of this today for someone I knew from afar for many decades, and met face-to-face only a year ago on this same date, took his last breath this afternoon.
It is a somber day; yet beautiful. Phillip, is gentle man, a giant. His heart is, to coin an expression, more golden than gold. His spirit is softer than the yellow metal is in its purest form. Phillip's goodness is great. You may think it odd that I presume to know so much about this man. After all, we only spoke on a few occasions in the past year. However, I am closely acquainted with Phillip's family. I have, by extension been apart of this loving circle for generations.
On March 11, 2006, I spent hours chatting with Phillip. We discovered all that was between us. Until then, we never understood that we were truly connected. Without communication, there is much conjecture. When we open our hearts and minds much is realized, at least Phillip and I thought so.

Continue reading ""Death Ends a Life, Not a Relationship." In Memory of . . ." »