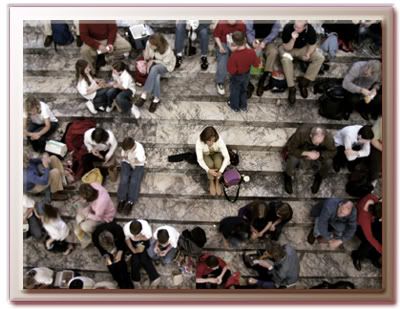 copyright © 2007 Betsy L. Angert. BeThink.org
The world is crowded. Six billion, six hundred twenty seven million, three hundred and sixty six thousand, three hundred and fifty people populate this planet, or did a short time ago. In this moment, there are more humans than there were seconds ago. The number of inhabitants increases exponentially each day. Everywhere we look, there is another person being born. Yet, at least in America, people feel more isolated than they did in the past.
Americans are more connected. Cyberspace calls us and draws us in. Electronic communiqués flood our online mailboxes. Cell telephones ring. It seems everyone has one and uses it to speak with someone, even when they are with another individual. Conversation is ubiquitous. However, when in a crowd, Americans feel more socially isolated.
A horde of people feels hollow; a throng leaves us empty. Conversations abound. Yet, few communicate.
Wherever we go we see smiles, hear laughter; and listen. Frequently, we initiate or participate. With all the chitter and chatter, certainly life must be a party. Yet, while engaged in the festivities many feel so very alone. People talk incessantly. Individuals prattle. Persons natter. Discussions abound; yet, something is missing. Small talk does not soothe the soul; it only fills the air.
Folks imply, infer, interpret, insinuate, and insult. Humans coo and coddle. A few chuckle and chat. Still they do not dare speak of what concerns them. True conversation can be dangerous, or at least difficult.
How often have we felt alone in a crowd even when we appear engaged? As children, we "played" with our peers; yet, often we marveled at what seem to entertain them. We went along to get along. At a certain age, we were enrolled school. Placed in a classroom with throngs of students we were one among many. There were expectations that may not have seemed reasonable to us. Yet, we learned it is best to remain silent and pretend to absorb the information. Feeling alone, lost, confused, and perhaps in disagreement was better than being singled out and punished for "bad" behavior.
Now, in our personal and professional lives, we do as we learned best when we were little; we say little or nothing. A parent may fear repercussions if they approach their child's teacher with concerns. A Mom or Dad may feel so forlorn. Other youngsters understand the assignment, and their son is lost. Dad devotes his evenings to his daughter. He tutors her in Math. He wonders, why she does not receive adequate instruction in school. Mothers and fathers may wait to speak. They do as they did when younger; parents hold back. They do not say what is on their mind.
When frustrated beyond belief Mom or Pop may call the school and shout, "Why is my child singled out?" The shrill approach to a perceived problem only exasperates a situation.
Old, young, or contemplating the circumstance of those close to us, often we believe our situation is different. People ponder if they speak, they will be labeled defiant. Some satisfied with the description heatedly head into battle after battle. Individuals take their convictions and mannerisms with them wherever they go.
Professional mentors muse. The goals outlined in the mandated curriculum conflict with the instructor's sense of quality education. Concern for the physical realities of survival may influence this academic. He may decide to do as he is told. Paychecks are often a priority when making a decision. Another educator might march into a superior's office in a huff. Crossly, she will stake out her claim. While the approaches differ, neither communicates their message well. It is difficult to hear what is not said. When faced with verbal flames, people struggle to do more than defend themselves.
An Administrator annoyed with Board dictums, does as she is told. In industry, we observe people are well trained. They too had years of schooling. Society teaches us; only those in authority can voice their opinions. Subordinates must suffer. Common workers do not have the power to be players. Some staffers do steam and scream; they express great angst. However, they usually discover when they holler they loose credibility. A lesson rarely taught in schools or at home is true communication only occurs when calm.
No matter the vocation, indoctrination is sadly, similar. Physicians and mechanics alike learn to diagnose; yet, not discuss. Accountants calculate; however, careful conversation may not be in the equations. Technicians understand how to tinker; they may not have acquired the skill necessary to talk and listen. Chief Executive Officers may have assets; they can secure profits. Nonetheless, many have not earned a degree in deep dialogue.
In every profession and predicament, there are presumed elites. They are knowledgeable in their area of expertise. The mediocre fill room after room. The mundane are abundant. Status means nothing when we evaluate communication skills. Nonetheless, the hierarchy affects what happens when people engage.
Humans in every aspect of life do great harm to themselves and others when they do not express themselves for fear of their station. When individuals yelp rather than ask for the help they actually want or need, much is lost. Trust and tranquility are necessary if we are to truly communicate.
When we remain silent, we appear to be in agreement with authorities, contemporaries, colleagues, and cohorts. If we do not verbalize who we are, what we need, or our beliefs, we experience a greater sense of solitary confinement. We may appear to be part of a team. In truth, we further the distance between self and others. Shouts do not secure closeness; nor do these facilitate communication and empathy. Our reluctance to communicate or boisterous behavior causes a greater divide.
Please ponder what occurs in your office, at a party, in professional careers and in personal relationships. We can be physically connected and emotionally separate. We converse and yet, we do not communicate.
In a classroom, in a court house, a cafeteria, when on a conference-call, in neighborhood communities, and even at home people debase, condescend, patronize, roll their eyes when they think no one will notice, or show sycophantic respect. They, we, humans are anything but authentic when we speak with others. Then we wonder; why might we be less than effective communicators?
When with a loved one, we might relax. We feel we can be totally true to ourselves. Thus, if we feel a need to express ourselves in a difficult situation, we may shout, scream, stomp, slam doors, and tell the other to "Shut up," common vernacular for "Please, close your mouth."
Those calmer in nature, engage in deep and logical discussions. We use "laser logic" to burn a hole in the heart, mind, and soul of a mate. Words may not draw blood; nonetheless, the body is left limp, lame on the floor. It is not a pretty site.
Whether we are physically or verbally aggressive, intellectually assertive, or even silent in difficult times, ultimately we will realize communication is not easy.

Most people realize that the lack of effective communication with others can lead to serious problems in a person's life: 44% of Americans believe that it "very frequently" causes a marriage or a relationship to end, fewer (38%) say that money problems "very frequently" get in the way of a relationship, some name interference of relatives or in-laws (14%), others blame sexual problems (12%), previous relationships (9%), and children (7%).

When asked to choose the most frequent cause among those they listed as "very frequent causes," only two stand out: a majority (53%) say a lack of effective communication between partners is the most frequent cause, while fewer than three in ten (29%) say money problems are the most frequent cause. All other causes are ranked first by fewer than one in ten people.
Partnership has an emotional appeal. Emotions can cause and have an effect on the quality of a conversation. This is evident when we search the statistics. It is interesting to note, people may be more cautious in their careers than they are at home. Our need to survive, to provide food, shelter, and clothing can come between our mouth and our brain. Physically, humans may be more dependent on dollars, than they are on their mate.
A majority of Americans are satisfied with the comfort level of communication in the workplace, though they feel far more at ease talking to their coworkers than their boss. Almost two-thirds of people who work are very comfortable communicating with their coworkers (69%) while only 3% feel uncomfortable. Fewer people (no surprises here) feel very comfortable communicating with their boss (57%). People feel they are less effective than comfortable communicating at work: more than half think they are "very effective" communicating with their colleagues (58%), and somewhat fewer (51%) feel very effective communicating with their supervisor.

Older, more experienced people consider themselves more effective communicators than younger people who are just starting their careers and establishing their relationships in the workplace: half of those aged 45-54 (51%) consider themselves to be "very effective" in their communication with the boss, versus four in ten 18 to 24 year olds (39%). Clearly, people become more comfortable and effective dealing with the boss as they get more experience.
At times, age is not the determinant. Experience does not make a difference. Status counts more than seniority or knowledge. Rank is frequently the reward of those considered more capable. Confidence is often interpreted as competence. Commonly, we calculate the worth of another by how well they communicate. If a man or woman greets a crowd with a haughty hail, often they are thought to be strong. A shy and quiet person, someone who is reserved and perhaps reflective may be viewed as less able.
In the workplace, silence is a common solution when confronted with what might seem a crisis. How often have any of us sat with a supervisor and said nothing substantial when asked for our opinion. When on conference calls, or in a meeting with colleagues, we might notice the complaints we hear in the hallway when chatting one-on-one are never discussed. Certified consultations are void of communication. People, when placed in a professional situation do not exchange ideas freely, even when given the opportunity.
Yes, associates chatter; they talk. Statements are made. Yet, ultimately, workers are complacent. Everyone is eager to please the person in charge. Silence may secure a professional paid position. However, the lack of discussion may be perceived in ways the worker does not consider. In the office, at home, on the streets, silence is not always golden.

10 Things to Know About Silence in Communication 

By Susan Dunn

July 28, 2005

One of the most important parts of any conversation is the silence. Silence can serve many functions in a conversation and how you manage it, determines your level of sophistication. Here are some points to keep in mind about silence in communication.

1. Allowing silence in a conversation puts pressure on the other person. 

 It's conventional in the US not to allow any sort of extended silence in a conversation. Therefore, to allow one puts pressure on the other person to "fill air time." Some interviewers, for instance, use this technique to see what will happen. Often the person will "spill" – saying exactly the thing they didn't want to say. 



2. Silence can indicate hostility. 

Withdrawing, "stonewalling," and pouting in silence are ways some people handle anger. Such a silence can be pulsating with bad feelings, and elicit anger on the part of the other person.

3. Silence can indicate disagreement. 



While it's almost never an indication of indifference, silence can indicate that the other person is having negative emotions. When we experience anger, fear, or embarrassment, our thinking brain shuts down. We sit there fuming, unable to speak; enraged and unable to find words; afraid and scared speechless. Some people are "flooded" with these emotions, and unable to respond.

4. Silence can indicate profoundness, such as awe or horror. 

 Sometimes when we're listening to someone else, we hear something that leaves us speechless because it really goes beyond words. Listening to someone talk about a dreadful trauma they've endured, or a beautiful, almost-sacred interaction with another human being, or a description of an awesome natural event such as a sunset or a volcano eruption are examples. Somehow, when we listen to such things, the ordinary "Oh," "Wow," and "That's awesome" don't seem enough, and so we fall silent. 



5. Silence can indicate respect. 

In some cultures more than others, silence indicates respect. A young person may be expected to approach an older person or a person in authority and remain silent until recognized, acknowledged, and spoken to. 



6. Silence can indicate contemplation. 

The more introverted your communication partner, the more likely they will think before they speak. Extraverts discover what they're thinking and how they feel by talking. Introverts figure it all out inside their own head and heart before giving voice to it. 



7. Silence can be intentional rudeness. 

 Because of the nature of normal conversation in the US, allowing an extended silence can be perceived as rudeness. It can also be meant that way. Refusing to reply to the other person is a way of ignoring them. 



8. Silence can be the creation of a listening space. 

When you are profoundly listening to someone, you create an open space for them to talk into that's almost palpable. Good listeners know how to do this, and it can be learned. It's an "openness" that you transmit through nonverbal means. 



9. Silence can be an indication of empathy. 

 When we're really tuning in to how the other person feels, we're listening more to the tone of their voice, cadence and speed rather than the actual words, so reply with words may not be the most appropriate response. Sometimes sounds are more attuned . . . a murmur, a sigh, sucking in the breath in shock, soothing sounds, clucking (tsk tsk), or shaking the head and going uh, uh, uh. 



10. How you manage silence in conversation is an important part of emotional intelligence. 

Excellent communicators can allow silence when it's effective or called for; can avoid being pressured into "spilling" when silence is used manipulatively; offer silence as a gift or sign of respect; interpret the silence of others appropriately; understand how other cultures use silence; mindfully regulate the use of silence; and are comfortable with silence and understand its many uses.
When we do not speak; are we the diligent student, the deterred parent, the proper professor, or the distracted, protracted fuse about to bust into flames. Might we be the bewildered Board member, the embattled employee, the disgruntled laborer looking for a way to distinguish ourselves, even if it means we must destroy our co-workers and perhaps ourselves? An observer cannot be certain.
The sounds of silence are significant. They can confuse those that hear nothing. We may intend to communicate we care, and they may interpret the lack of words as contemptuousness. What we do not say speaks volumes, just as gestures do. Does a pat on the bottom mean "Well done," or does such a stroke signify, "I like your body." We can never be certain what another person intends with or without words. Yet, ninety percent of what we communicate is said without oral language.

Non-verbal communication is a system consisting of a range of features often used together to aid expression . . . The main components of the system are:

Kinesics (body language) Body motions such as shrugs, foot tapping, drumming fingers, eye movements such as winking, facial expressions, and gestures

Proxemics (proximity) Use of space to signal privacy or attraction

Haptics Touch

Oculesics Eye contact

Chronemics Use of time, waiting, pausing

Olfactics Smell

Vocalics Tone of voice, timbre, volume, speed

Sound symbols Grunting, mmm, er, ah, uh-huh, mumbling

Silence Pausing, waiting, secrecy

Posture Position of the body, stance

Adornment Clothing, jewellery, hairstyle

Locomotion Walking, running, staggering, limping

Of the above, body language (particularly facial expressions and gestures), eye contact, proximity, and posture are probably those which learners most need to be aware of in terms of conveying meaning, avoiding misunderstandings and fitting in with the target culture.

In terms of skills development, non-verbal clues should not be underestimated when developing both the listening and speaking skills. Like grammatical structures, non-verbal communication has form, function and meaning, all of which may vary from language to language.
What does not differ, no matter the verbal or nonverbal language, is the perceived quality of the interaction. When two people come together, even if they do not speak the same dialect, or hold positions outwardly considered equal, they have a sense of whether the interchange is effective and meaningful.
A student can work with a teacher as a colleague. A mentor can learn from those that actively acquire knowledge. A candid parent can approach a child with authentic empathy. What mother or father was not once young? Educators, Moms, and Dads can discuss their needs and deeds without defensiveness.
A Physician can seek the wisdom of their patient. Indeed, only an individual can know what occurs within his or her body and how they feel. A corporate President can engage a subordinate with authentic interest. After all, if anyone understands how a company works, it is the peon, the secretary, and the janitor with the keys to every door. Theses employees have been everywhere within the workplace. Staffers know where the skeletons are hidden, what needs attention, and what functions well.
If each person in every profession or circumstance cares to communicate, attempts to approach the other with empathy, and a desire to understand, any exchange can be fruitful and fulfilling. Again, a conversation is more complex than oral statements.
We may be able to locate an interpreter if the spoken word is unfamiliar. Nevertheless, if our message is not sent with an open heart and mind it will not be received well. Advice from a master communicator and successful businessman may assist us if we are willing to look beyond the superficial.
Former General Electric Chief Executive Office, Jack Welch understands that communication is not a technical process. Task analysis, and implementation of supposed "tried and true" techniques, will not create a great communicator or a leader. Words will not woo a client or the person that you wish to court.

Titles don't matter . . . Passion, chemistry, and idea-flow from any level, at any place are what matters.

Welch also says that passion is a must for any CEO or leader [or regular person that wishes to be an effective raconteur.] "If there is one characteristic that all leaders [happy fulfilled persons] share, it's that they care more than anyone else. No detail is too small to sweat or too large to dream." . . . Passion comes in all shapes and sizes and takes many different forms. Ultimately, passion can come from only one place: "From deep inside," as Welch put it.

. . . Passionate leaders [persons] get people to look inside themselves and give more, create more, and risk more.
When asked of communication Jack Welsh muses, whenever he had an idea or message he could "never say it enough." Whether it be in the workplace, within the home, a community, or in the world at-large Jack Welch understands what we all might ponder. People, more accurately, passion makes the difference. Characterizations and classifications do not move mountains, make an industry, allow for intimacy, or inspire. Indeed these designations may threaten us. Welch, an accomplished entrepreneur, and former Chairman reminds us, an authoritarian approach to leadership or in language may deter supposed subordinates.
My experience is that the foundations of leadership [effectiveness] begin in childhood and are reinforced through a series of experiences that build self-confidence. There's a fine line between arrogance and self-confidence. Arrogance can be a killer. The difference between self-confidence and arrogance is the courage to be open - to welcome change and new ideas regardless of their source. Even with all the self-confidence in the world, the "essence" of leadership comes from inside . . . by maintaining integrity. Establishing it and never wavering from it supported everything I did throughout good and bad times.

People may not have agreed with me on every issue - and I may not have always been right - but they always knew they were getting it straight and honest. I never had two agendas. There was only one way - the straight way . . .

For me, intensity covers a lot of sins . . . When passion is combined with self-confidence, and integrity, it's a winning combination no matter what you do or where you work.
Welch understands and acts on ideas that I too grasp. Authenticity matters! What is not stated sincerely, with care cannot, and will not, be understood or acted upon. What we say is not as important as how we say it. We cannot state our desires or needs once and expect to be heard or understood. We must reiterate, repeat, dare to be redundant, and then review the details again and again. However, enthusiasm alone and repletion alone are not enough. If we are to be effective in our communication, we must be approachable.
Your nonverbal communication talks before you do. Only seven percent of interpersonal communication is transmitted verbally—the remaining ninety-three percent speaks for itself.



And, because nonverbal communication is learned and practiced on an unconscious level, you won't be aware that you silently scream, "Please don't talk to me!" 



When you enter a room full of [teachers, students, parents] employees, clients, or friends each of them intuitively asks one crucial question: are you approachable? If the answer is yes, the conversations in which you engage will be initiated with ease and comfort. You make new friends. You create new contacts. And you will not have to suffer through another meeting clamped to the snack table. However, if the answer is no, there won't be any conversations! As a result, you miss opportunities to create connections and meet valuable people.
If child, adult, professional, peon, or we are to achieve, we must conceive, and then believe that we have the power to make a difference. Perhaps that is the greatest problem, the paradigm that hinders healthy communication. Deep down, we do not accept as true that we can be, and do as we desire. Marianne Williamson wrote of what might be the greatest barrier to communication, our fear.
Our deepest fear

Our deepest fear is not that we are inadequate. Our deepest fear is that we are powerful beyond measure. It is our light, not our darkness that most frightens us.

We ask ourselves, "Who am I to be brilliant, gorgeous, talented, fabulous?" Actually, who are you not to be?

You are a child of God. Your playing small does not serve the world. There is nothing enlightened about shrinking so that other people won't feel insecure around you.

We are all meant to shine, as children do. We were born to make manifest the glory of God that is within us. It's not just in some of us; it's in everyone. And as we let our own light shine, we unconsciously give other people permission to do the same. As we are liberated from our own fear, our presence automatically liberates others.
I invite you dear reader to be as you fear. Express what you think. Share what you feel within. Do so delicately, and repeatedly. Dear readers consider the words of a Spanish Philosopher and Writer.
"Only he who attempts the absurd is capable of achieving the impossible."
~ Miguel de Unamuno [Spanish Philosopher and Writer]
Trust in the impossible. Have faith in you. Be absurd. You may discover you are not as alone. Everyone in the crowd is as you are. They too only wonder how they might best communicate.
Sounds, Silence, Communication Barriers . . .