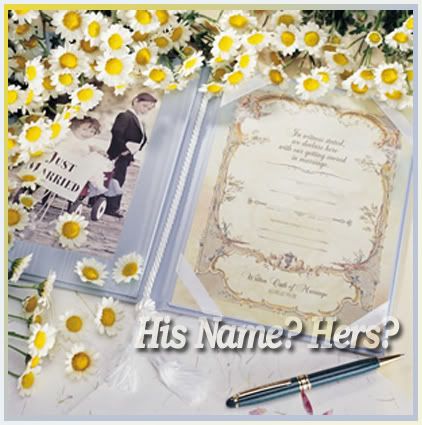 What is in a family surname, a first name, or a middle moniker? Today as I reflect on a current court case, I am reminded of my own history, my Mom's, and several stories told by former President Gerald R. Ford. Michael Buday is petitioning a federal judge for the right to take Diana Bijon's last name. The two recently married. Michael never felt connected to his own natural father. Mister Buday declares, "I had a rough childhood with my father," He continues, "We never really got along. Diana's father stepped up, gave me career advice. He's family." The term "family" is often heartfelt; it means more than any surname. At least it does to Michael Buday.
Long before they got engaged on a ridge in the Grand Tetons, they had talked about the future and children and names — specifically their own surnames. She loved hers. He wanted to shed his.

Diana Bijon asked her boyfriend if he would take her last name if they got married.

"I always hoped I would meet a guy who would let my kids take my name. My name dies with me, and my sister and I love my dad so much," said Bijon, 28, an ER nurse at UCLA whose father is a French émigré.

Mike Buday, estranged from his father, felt little attachment to his last name. He agreed to change it.

"Diana's father, to a certain extent, is a father figure to me," he said.

A couple of years later, when Buday, 29, proposed marriage while on a backpacking trip, Bijon reminded him about their previous conversation.

"I said, 'Remember we talked about names? Are you really going to take my last name?' "

Buday, unfazed, said yes.

"It was," he said, "not a big deal."

Not until he actually tried to take his fiancée's last name.
It seems changing names is easily done if you are a woman, marrying a man, and taking his name as yours. If the arrangement is other than the accepted convention, stumbling blocks are conveniently placed in your path.
I know this from my own life experience. My Mom had her own traumas and dramas. Former President Ford also changed his name. As a very young child, "Lesley Lynch King" was given his stepfather's name, Gerald Rudolff Ford. However, the legal papers were not prepared until Jerry Ford Junior was an adult.
The past President was given the name Leslie Lynch King, Junior, at birth. Two weeks after baby "Leslie" was born, his mother, Dorothy Ayer Gardner [King] separated from the senior King and sought a divorce. The divorce was granted a little over a year after she left. Another four years later, "Leslie's" mother remarried. This time she wed a gentle man named, Gerald R. Ford. They began calling her son theirs and unofficially changed the child's name.
President Ford spoke of his "father" often and always expressed his deep love. Gerald R. Ford Junior did not declare his fondness for the man that helped to give him a physical presence in this world; he lovingly stated his care for the man who had meaning in his life, Gerald Rudolff Ford Senior. The former President did not officially change his name until he was twenty-three [23] years of age. Securing the surname that Mister Ford thought most significant was important to him, even as an adult.
In my own life, my natural father, also very well off, was indifferent. We were not close. In truth, according to my eldest sister, after my birth my "father" barely came home. I trust that her observation is true, for I do not recall my "father" being part of my life.
My biological father was an excellent provider. He worked hard; nevertheless, he was not part of my life. My Mom, apparently had her own complaints or concerns. After more than twenty years of marriage, my Mom chose to leave.
After my Mom's divorce, she met and married another man, one that was meaningful in my life. I too was using my "Dad's" last name before being adopted. I met with my birth father once after Daddy formally entered my life and it was not good. As the former President's biography states . . .
Ford grew up in a middle class family. He was a healthy, industrious youth who helped out with the chores.

When he was 12 or 13, Ford's parents told him he was adopted. He first met his biological father when he was 17 and would see him only one other time. Young Ford was bitter about his wealthy father's indifference toward him. He called their first meeting the most traumatic experience of his youth.
The same could be said for my meeting. In my "parents" home, no one yelled or screamed. Our home life was quite quiet and calm. On the afternoon I met with my birth father, loud voices were all I heard.
The man that gave me a physical life was beyond distressed; his name would not live on. Not only was he, in his own mind, unfortunate enough to produce three daughters, this one, me, did not want to retain his last name. I had no desire to pass my birth name on. My biological father thought the tradition of "passing on the family name" was important. Our family name seemed more significant for him than the family ever did. According to my "father," tradition and history are lost when the name no longer lives. Michael Buday acknowledges this.
Michael Buday describes his reasons: how his new bride, Diana Bijon, came from a son-less family and wanted to continue her family name, and how he's much closer to her father than his own. "Diana's father stepped up, gave me career advice," Buday says. "He's family."
However, changing one's name is not as easy as we might imagine. In my own life, I understood, I needed my biological father's permission. It was four long years before my "father" relented and authorized the legal adoption. Perhaps, Gerald Ford was forced to wait to change his name. It may be that his biological father was as reluctant as was my own. "Leslie Lynch King, Junior" being a boy, had the power to perpetrate the tradition in a way that I, as a woman, might not. Possibly Gerald R. Ford Junior was not granted the right to change his names as a youth. Once an adult, he may have elected to follow his heart
Sadly, even adults are not always awarded the privilege of doing as they desire. Michael Buday is realizing this.
If you're a California man wanting to take your wife's last name in marriage, bring your wallet or your lawyer. One recent groom is opting for the latter, suing the state for not making the name-switch an equal opportunity proposition.
Mister Buday contends women can change their names easily, and they can; however, at times there are repercussions. USA Today reports . . .
a bride wanting to change her name can do so in California for less than $100, it's no easy task for a groom, he says. "To officially change his name to hers — and for future Social Security benefits, Buday says — a man must pay a $320 court fee, advertise his intention in a newspaper for four weeks and get a judge's approval."
There are many unexpected dynamics involved in changing names, first, last, and middle.
In my own life, I had to meet with a judge. At the age of thirteen, I was interviewed. My parents were probed. An attorney was present and yes, money changed hands.
My Mom had another experience, different than Mister Buday's, Jerry Ford's, or my own. After marrying a third time, my Mom chose to retain her second husband's name. It was my last name as well. We shared it, just as we shared a deep emotional bond.
Her new husband took our surname as his middle. She, in turn acquired his last name as her middle moniker. Thus, professionally my Mom was secure. The last name on her credentials was the same surname that appeared on her office door. Personally, she was still as she was. Physically and emotionally, she had a more solid marriage and a better sense of herself. Her last name was no longer tied to her being in the traditional manner.
Yet, when she went to the bank, with important documents to sign, she was harassed. My Mom was told she could not take her husband's last name as her middle. The banker said, "You are not legally a person because of what you did with your name." She cried.
This was the second difficult and painful event my Mom experienced while grappling with her names. At the age of forty-eight she discovered her father had never done as he promised. When she was seven years old, she was told she could change her first name. Her Dad, my Grandfather would file the proper papers. He never did.
My Mom realized this accidentally while doing official government business. The circumstances were typical. She was engaged in a bureaucratic endeavor. She needed to prove that she was she. She thought she could and then discovered, records did not match. Having learned that the necessary rules and regulations were not followed in her youth, my Mom was told she had to create documentation validating that she was who she said she was. The course of action was costly. It was a time consuming process. The unconventional often is. Michael Buday realized this.
On the marriage license application, which now costs $70 to file in L.A. County, Bijon could simply fill in her last name or her soon-to-be husband's last name.

But if Buday wanted to become a Bijon, he would have to get an order of the court to do so — and not before he had filed a petition, paid $320, advertised public notice of his intention to change his name for four weeks in a local newspaper and then appeared before a judge.
Mister Buday thought this obscene, offensive, or over-the-top. He said of the experience . . .
"It strikes both of us — especially me — that this is not on equal ground," said Buday, now married to Bijon for more than a year but reduced to still using his, well, maiden name. "This is about gender equality."
The
American Civil Liberties Union of Southern California
agrees and wishes to represent Mister Buday in his endeavors. Indeed, they believe Buday has a case for such an argument and
Today the organization plans to file suit against the state of California in federal court, arguing that the difficulty a husband faces when changing his name to his wife's violates the equal protection clause provided by the 14th Amendment of the Constitution.

"This is important to the couple and it's important symbolically," said the local ACLU's legal director, Mark Rosenbaum, who called the current license application "the perfect marriage application for the 17th century."

When the couple, who live in Marina del Rey, sent an e-mail about their plight to the ACLU — one of thousands of inquiries the group receives — the organization took on the case with gusto.

"Every step of that process reflects a process of subordination of the wife," Rosenbaum said. "You have to get permission of the state to choose the name of the wife, you have to pay for it … you have to let the public know…. And finally, you have to go to court to get approval.

"If you want to set up a system to discourage couples from adopting the name of the wife, this is it."
Six states within this country do allow individuals to choose their names with little if any interference. These seem to allow for sentiment and free choice. Others demand dollars or deem the significance is bureaucratic.
Some naming books speak of a sacred association. The forename, given name, middle name, maiden name, surname, and family names, connect an individual to his or her own being. They validate a feeling, or sustain a tradition. Supposedly, a title means more than, 'I filed the required papers' or 'The government sanctioned my mark.' However, one wonders.
What is in a name? Does your moniker personify your identity?
Does our name unite us with those we love or are our names only legal representations used to generate commerce and establish government records.
Please tell me, what is your name? Is it significant; does it speak to your sense of family, self, or is it merely a connection to Social Security and other official doings? Soren Kierkegaard professes, "Once you label me, you negate me." Might we have the right to describe ourselves.
Name your moniker . . .