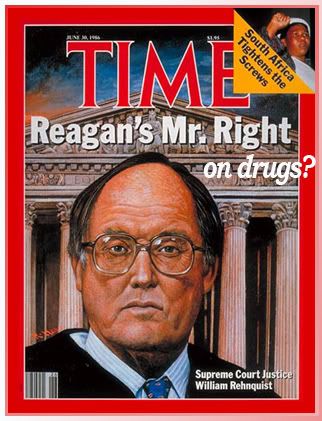 Belated Prologue . . .
I realize in retrospect I ranted and raged in haste. I was less reflective than I might have been. I did not consider how my words might be received. Thus, I neglected to state a significant point. Accepted political postures now supplant dictionary definitions. Back in the day, a conservative was one that conserved. They did not waste money or energy; nor did they treat life with little care. Natural resources were of great values to conservatives. Conservatives retained worthy traditions. Conservatives were cautious.
Currently, when we speak of conservatism, we equate the term with theories such as "trickle down economics." We think of those that allow for trillions of dollars in debt. Conservatives believe fighting terrorism in a protracted war that cost billions of dollars each week is best. It is conservatives that flippantly send our troops to battle; thus, endangering their lives. William H. Rehnquist was considered Chief among conservatives.
The story . . . This treatise may be more of a personal rant. I typically present, or attempt to offer facts, figures, and a hint of my own individual reflection. However, in this moment I am just shocked, stunned, and perhaps aghast. I was late to the news of the day. I listened as I prepared my dinner. I heard the teaser, 'Former Chief Justice William H. Rehnquist had a serious drug problem.' I feel a personal connection with the Justice since I learned of our shared history. I do not necessarily admire the man. Still, upon hearing this news, I [mistakenly] gave the former Chief Justice the benefit of the doubt.
I thought to myself, 'Rehnquist must have been on drugs when he selected the Bush.' His self-induced stupor explains his decision. How could anyone in their right" mind anoint George W. Bush, President of the United States. Other stories aired before the substance of the report was revealed. I continued to ponder the possibilities. With no information, I concluded Rehnquist must have acquired the addiction late in life, perhaps, during his bout with thyroid cancer. That illness affected him years before his passing. His health was poor. Perchance the pain was too great, particularly considering his age.
Nevertheless, though I had concluded in my own mind what must have been, I decided I needed to know immediately, when did the addiction occur. How serious was it? I quickly ran to the computer and read. I discovered my initial impression was Wrong!
Rehnquist Drug Dependency Detailed
By THE ASSOCIATED PRESS
January 4, 2007 Filed at 5:48 p.m. ET

WASHINGTON (AP) -- A physician at the U.S. Capitol prescribed a powerful sleep aid for William Rehnquist for nearly a decade while he was an associate justice of the Supreme Court, according to newly released FBI records.

The records present a picture of a justice with chronic back pain who for many months took three times the recommended dosage of the drug Placidyl and then went into withdrawal in 1981 when he abruptly stopped taking it.

Rehnquist checked himself into George Washington University Hospital, where he tried to escape in his pajamas and imagined that the CIA was plotting against him, the records indicate.

Although Rehnquist's drug dependency was publicly known around the time he was hospitalized in 1981, the release of the FBI records provides new details.

The justice was weaned off Placidyl in early 1982 in a detoxification process that took a month, according to the records. The hospital doctor who treated Rehnquist said the Capitol Hill physician who prescribed Placidyl for Rehnquist was practicing bad medicine, bordering on malpractice. Both doctors' names were deleted from the documents before they were released.

The FBI documents were prepared in 1986 when Rehnquist -- who began serving on the court on Jan. 7, 1972 -- was nominated for chief justice, years after his problems with the drug had ended.

A psychiatrist told the FBI that Rehnquist's family in 1981 noted ''long-standing slurred speech which seems to coincide with administration of Placidyl,'' one FBI interview report stated. The psychiatrist also indicated that Rehnquist's chronic back pain led to his heavy use of such substances as Darvon and Tylenol 3, which the psychiatrist said also played a part in Rehnquist's condition.

An attending physician at the U.S. Capitol detailed Rehnquist's problems with Placidyl for the FBI, saying that prior to his seeing the justice in 1972, Rehnquist was prescribed the drug by another doctor for relief from insomnia. The attending physician told the FBI he continued to prescribe Placidyl for the entire 10-year period that he treated Rehnquist.

The physician said that Rehnquist had been prescribed 500 milligrams of Placidyl per evening, but that Rehnquist was actually taking 1,500 milligrams each night. The doctor said this increased consumption may have coincided with Mrs. Rehnquist's illness and treatment for cancer.

Rehnquist had told the physician that he was taking one pill before going to bed and he would take other pills if he awakened during the night.

The physician indicated that he decided to discontinue the drug's use and to try another medication. Rehnquist said the new medication was not strong enough, an FBI interview report stated. The physician said he then prescribed a substitute and then another, at which point Rehnquist went into the hospital.

The hospital doctor who successfully weaned Rehnquist from the drug told the FBI that the toxicity of Placidyl causes blurred vision, slurred speech, and difficulty in making physical movements. Once a patient stops taking the drug, the withdrawal symptoms of delirium begin, which is what happened to Rehnquist at the hospital.

The doctor who helped Rehnquist get off the drug said the justice's wife was highly upset and felt that the prescribing physician and the pharmacist who filled the prescription were probably intimidated by such high-ranking officials as Supreme Court justices and senators and probably would have agreed to almost any request.
Dumbfounded, I wanted to know more. I searched further. I found
Though his name was blacked out, Dr. Freeman Cary, then the attending physician of the Capitol -- whose services are also available to Supreme Court justices -- told agents that he began prescribing Placidyl to Rehnquist in 1972 for insomnia and continued to do so until the 1981 episode. For six or seven months before Rehnquist's hospitalization in 1981, Cary indicated, Rehnquist was re-filling three-month prescriptions for Placidyl every month -- suggesting he was taking close to 1,500 milligrams daily instead of 500.

When Rehnquist went into George Washington University Hospital in December 1981, he was seeking relief for his back but, according to some of the physicians interviewed, also knew he had a drug problem. Rehnquist's episode with delusions came when doctors ended his Placidyl. Doctors then resumed his high dosage to wean him off the drug slowly, reducing gradually until he stopped taking the drug altogether in February 1982. At that point, doctors said Rehnquist was cured of his dependence.
By this time my head was reeling. I returned to the kitchen and listened to
Cable News Network
reports as I cooked. I discovered not only was the conservative justice doing drugs extensively long before becoming Chief Justice, he was acting out his racist views, though he denied this! Perchance there is more to be exposed; however, for decades administrations have actively worked to conceal the truth about Judge William Rehnquist.
The FBI on Wednesday released 1,561 pages of documents on Rehnquist to news organizations and scholars in response to requests made under the Freedom of Information Act following Rehnquist's death in September 2005 An additional 207 pages were withheld under the federal disclosure law, and the FBI said an entire section of his file could not be found.

Much of the FBI's file on Rehnquist appears to have been compiled almost exclusively for his two Senate confirmations -- his initial nomination to the court by President Nixon in 1971 and his nomination as chief justice by President Reagan in 1986. Administration officials apparently hoped to prevent any surprises from sinking his nominations.

In 1971, Deputy Attorney General Richard Kleindienst directed the FBI to conduct investigations of witnesses who were planning to testify at a Senate hearing against Rehnquist's confirmation.

Fifteen years later, during the Reagan administration, the FBI was enlisted to conduct background checks on witnesses who were scheduled to testify against Rehnquist's nomination to become chief justice.

The late Sen. Strom Thurmond, a South Carolina Republican, was chairman of the Senate Judiciary Committee in 1986 when Rehnquist was nominated to be chief justice. John Bolton, who resigned in December as President Bush's U.N. ambassador, was an assistant attorney general under Reagan.

"Thurmond just gave these names to Bolton they will testify for the Democrats and we want to know what they are going to say," a Justice Department official told a counterpart at the FBI, according to a memo in Rehnquist's file.

Alexander Charns, a Durham, North Carolina, lawyer who received the file and has extensively researched the FBI's relationship with the court, said the new disclosures show the Nixon and Reagan administrations went to some lengths to discredit Rehnquist opponents.

The file also indicates the two administrations enlisted the FBI's help in blunting criticism of him during confirmation hearings.

"In many ways, I guess it's the same old story of the political use of the FBI," Charns said.

The documents show that the FBI was aware in 1971 that Rehnquist had owned a home in Phoenix with a deed that allowed him to sell only to whites. The restrictive covenant was not disclosed until his 1986 confirmation hearings, at which Rehnquist said he became aware of the clause only days earlier.
Oh, please! A learned scholar, an expert in law only learned of the clause days before his hearing.
I must admit my fascination with Chief Justice Rehnquist goes beyond the fray. The fact that he selected George W. Bush for President without cause is reason enough for pause; however, my interest in the man is much more is personal.
Many years ago, I was teaching a political science class. We were reading a biography of the Chief Justice and I noticed he was born and raised in Milwaukee Wisconsin. Although the city is not my place of birth, it is the city I consider my hometown. I may have physically left Wisconsin long ago; still, my heart remains there.
After reading this factoid, I merrily went off to the library. I was curious. Did Rehnquist reside in my neighborhood? He did! I lived in a very small village outside of Milwaukee. Apparently, so did William Rehnquist. I surmised he likely went to Marquette High School, an exclusive institution. Much to my surprise, the chief Justice is a graduate of my same small school! We are fellow alums!
My political philosophies are considered extremely liberal; his were radically "right." I marvel at the dichotomy one system can produce. My high school graduated many notables and it seems politically they cover the spectrum. This is likely true of many educational facilities. This detail is not extraordinary.
What I do find remarkable is that though I am a liberal, my lifestyle has always been exceedingly "conservative" perhaps more so than those claiming to be cautious. I never did drugs, not in my youth or as an adult. I, as Chief Justice Rehnquist suffered a back injury. Prescription drugs were offered. I shied away from these. I was always concerned; a possible addiction was in the forefront of my mind. The idea of taking three times the dosage as Rehnquist did was and remains unthinkable to me. Were I to somehow find myself in that circumstance, I would seek help, not hide the truth.
Once I regained my sense and given up the addiction I would speak of it openly in hopes of helping others. I have done this repeatedly. I discuss my earlier food affliction often. Fortunately, actually, purposely, in choosing my dependence, I consciously considered the fact that food would not distort my thinking. Inhaling meals did not impair my speech or other mannerisms. My ability to judge remained intact. Interestingly, even as I binged and purged, I thought about what I was doing. Constantly, I reflected on how could I stop. I am told and read that drugs and alcohol allow an individual to escape reality; food does not offer that same opportunity.
I have had physical pain, and I did not wish to feel it. I had kidney stones, many. The ache of that was excruciating. I did take a few Vicodin, though I never developed a dependency. I always worked to take as few pills as possible. Rarely have I emptied a bottle. Typically, I trash prescription drugs.
When seriously injured I will fill a doctor's recommendation, take medication for days, then purposely stop! I save the tablets for years, just in case. Then, ultimately, I clean out my "stash."
I am so sensitive to the distorted view drugs provide, I avoid them like a plaque! At my current ripe old age, I have yet to imbibe an alcoholic beverage. Living in a town once known for its beer, this may be unusual.
When I reflect on the possible purported racism exhibited by William Rehnquist, I once again draw a parallel. While in middle school I marched in my first protest march. The issue was civil rights. Was the Chief Justice among the marchers? Catholic priest Father Groppi, a well-known activist organized citizens in our local community. Years later, while living in California, Father Groppi passed. The man was apparently nationally prominent. Even in southern California, there were reports of Groppi's death.
Milwaukee was not a backward city. It was bustling, perhaps more so years ago when a younger William was there, than it is now. Relatively speaking, years ago, Milwaukee was considered a larger city.
A tale heard years ago leads me to believe it is still a city of activists or at least the Village of Shorewood is. I returned for a high school reunion. Attendees were given the option to tour the campus. I took it. My favorite Social Science instructor led the group. The teacher mentioned that the high school initiated a program that honors famous graduates.
William Rehnquist was scheduled to arrive the week of September 11, 2001. For obvious reasons, the event was rescheduled. He appeared months later, and was greeted by a throng of protesters. Much of the student body turned out. Oh, if I had known, I would have been there with bells on.
I wonder; if the nation had known the Rehnquist record during the senate hearings, would we have witnessed more demonstrations?
I speculate. What is yet to be revealed? Hundreds of pages were held back? Alexander Charns, the recipient of the FRI file wonders as well.
Charns said some of the censored documents provide intriguing hints of what else Rehnquist's file might contain.

In one previously secret memo from 1971, an FBI official wrote, "No persons interviewed during our current or 1969 investigation furnished information bearing adversely on Rehnquist's morals or professional integrity; however ..." The next third of the page is blacked out, under the disclosure law's exception for matters of national security.

"It would be nice to know what is still classified, three decades later," Charns said.
I cannot begin to imagine. However, if my experience earlier this evening is a predictor, I trust that the revelation would be worse than I thought possible.
They say liberals are loose and act with little forethought. Perchance, an accurate judgment cannot be made based political party affiliations. What people do speaks volumes?
Hmmm, might we ponder the practices of other conservatives, Bill Bennett and Rush Limbaugh. Wow!
Rehnquist realized . . .